Severn Street Masonic Association Newsletter
The weekly communication for brethren providing:
The SSMA Newsletter is available to all brethren whose Lodges belong to the "Community of Severn Street Lodges"
This News Letter covers Masonic & non-Masonic news, social events and more, much more, that is of interest to all Masons.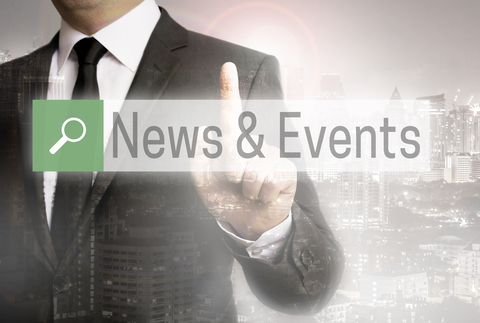 For the Attention of all Secretaries or Equivalent belonging to the "Community of Severn Street Lodges/Orders"
Please circulate to all your members as a matter of urgency
As you will be aware the Government announced yesterday that Birmingham and surrounding areas were to be placed into Tier 2 of the new COVID-19 restrictions with effect from Wednesday 14th October.

The implication of this is that households within these areas are banned from mixing indoors in any setting.

To ensure compliance with the Government's latest directive, the Board of AMBL has taken the decision to cease all Masonic meetings at Severn Street from Wednesday 14th October and until these latest restrictions are lifted.

We continue to be in worrying and trying times, however, I'm sure we all understand and agree with these latest restrictions. The health and wellbeing of everyone is of paramount importance.

Thank you for your continued support and please keep safe and well.

Thank you for your continued support and please keep safe and well.
Yours sincerely & fraternally
For and on behalf of Athol Masonic Buildings Limited (AMBL)

Ian Grayson
Managing Director, AMBL
Severn Street Masonic Hall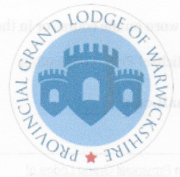 Provincial Guidance re Temporary Emergency Measures for Covid-19
We are in very strange and difficult times; our usual Masonic routines have been disrupted or suspended for almost seven months and it is well understood that a long period of absence from Masonic meetings and activities, may well result in some Brethren deciding not to return once "normal" circumstances return.
Above all the Provincial Grand Master is keen to stress that we must do all we can to encourage and support those who wish to meet and yet be equally sensitive to those who are vulnerable or are not comfortable with attending meetings.
Many Lodges have made excellent use of on-line communications and quiz nights etc via e.g Zoom meetings, others have created a system whereby every member receives a phone call on a very regular basis.
All these are so important as a part of keeping everyone involved and in touch and many of these initiatives have proven so successful that many Lodges will continue to employ them even after more normal life returns.
As a part of their continuing review of the impact on the restrictions on meeting together arising from the pandemic, and the ability of members to maintain some sort of fellowship in these rapidly changing times, UGLE have recently issued a notice regarding temporary emergency measures for Covid-19.
This notice addressed two issues; the potential for Lodges to suspend their meetings for up to three months at a time and the opportunity to include video conferences into a Regular Lodge Meeting.
These two issues have been addressed by UGLE for very sound reasons; firstly to address concerns raised regarding the issuing of Summons for a meeting which is almost certain not to take place and secondly to make it possible for those members unable to join a Regular meeting, due to the Rule of Six, to at least be involved in some of the discussions on general Lodge matters.
This guidance is based upon the information circuited by Grand Lodge in the First Rising issued on Monday October 5th 2020 and is a simplified description of those procedures and requirements.
We have used a form of Q&A tables and Flow-charts to explain and illustrate the procedures, but if there are any questions at all regarding these procedures, please do not hesitate to contact the Provincial Office and we will do all we can to assist and support yo
Conduct of Administrative Business by Video-conferencing Facilities
Grand Lodge have recognised that, with the current restrictions in force, especially the Rule of Six, many members may feel isolated from their Lodge and, if they are not one of the six persons permitted to attend a meeting, they are unable to take part in the normal administrative business discussions of the Lodge. Therefore, they have created a mechanism to enable any Brother, who wishes to, to participate in the transaction of Lodge business by means of an audio/video conferencing (A/VC) facility such as Zoom.

This only applies if the Lodge summons contains administrative business items for discussion which do not require a Ballot, such as Proposing a Candidate, reporting of promotions and appointments, reports from the Charity Steward, Lodge Almoner etc, and similar items.
Video Conference Procedure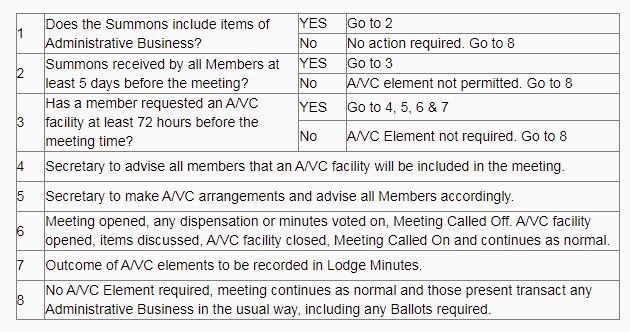 A Lodge is not obliged to hold an A/VC unless one is demanded, but any subscribing member has an absolute right to demand such a conference and no coercion should be applied to a member to withdraw his demand once made.
Password protection for the A/VC is essential, and although it is not a tyled meeting, every reasonable effort must be made to ensure that it is kept private for the whole of its duration.
For the purpose of the application of these Temporary Measures, and on no other occasion whatsoever, the formula "By virtue of the power in me vested, I Call on/Call off the Lodge" may be used instead of the fuller form prescribed by the Lodge's normal ritual.
The requirement for five clear days' notice is included to ensure that a member has a reasonable time in which to decide whether to demand an A/VC. It does not override a requirement in any Rule in the Book of Constitutions (or a Lodge's by-laws) for a longer period of notice in respect of a matter. Our current Provincial Policy is that Summons are to be issued 14 clear days before the meeting date
Temporary Suspension of Lodge Meetings
In simple terms this is an opportunity, for those Lodges who wish to do so, to opt for a period of suspension of their meetings of up to three months.
Some Lodges may have very few meetings in the next three months and therefore the members might see little benefit from seeking a suspension as the current arrangements work well for them.
Other Lodges may view this as an opportunity to create a degree of certainty as to what is happening in the next few months.
It is important to stress that this option is NOT MANDATORY and the decision to request a Suspension, or not, must be taken only after consulting with all members of the Lodge.
So, how does it work? There are essentially four steps in the process:-
 Either the Master determines to canvas the members regarding a possible Suspension or five or more members request a Suspension.
The Master canvasses all members.
If more than 2/3 of members agree to a Suspension the WM notifies the Provincial Office.
The Provincial Office acknowledges receipt of the notice and Suspension commences.


Suspension Process Checklist:

The notice to the Provincial Grand Secretary must be given either in a letter which is dated and signed by the Master or in an e-mail.
The following form of words is suggested:
"With the written agreement of not less than two-thirds of the subscribing members of ……. Lodge, No. …. I as Master of that Lodge hereby inform you that the majority of the subscribing members wish the Lodge to suspend its meetings for a period of [three] months from the date of this notice. [Signed] ……………….. [Dated]………." 
Before the notice can be sent, the Master must obtain the written agreement of two-thirds of all the subscribing members; any member who does not respond signifying his agreement has therefore cast a vote against voluntary suspension.
The decision to suspend meetings is emphatically not that of the Master; he can neither force through nor block a suspension against the wishes of the subscribing members. For this reason, if the Master chooses not to seek the views of the members of the Lodge, any five subscribing members can insist that he writes to find out those views.
This is the only situation in which a postal or e-mail vote is permissible in the Craft.
The same will apply to a decision to seek permission to end the voluntary suspension before it has come to an end.
The Provincial Grand Master has no discretion to refuse to allow the Lodge to suspend itself, but he does have discretion to refuse to allow the early resumption of meetings.
All Notices must be sent to the office of the Provincial Grand Secretary, not directly to the Provincial Grand Master.
The Master should ensure copies of all emails and/or letters sent and received in respect of the above process are retained in accordance with the requirements of GDPR.
Once the period of Suspension has ended, an application may be made for a further period of Suspension (of up to three months), but the same process must be followed.
There is no limit on the number of occasions on which notices of Suspension may be given.
These provisions cease to apply after 31 December 2021, unless advised otherwise by the Grand Master.
During a period of Suspension, if five or more Members request that it be ended, then the process of consultation, as above, must be followed.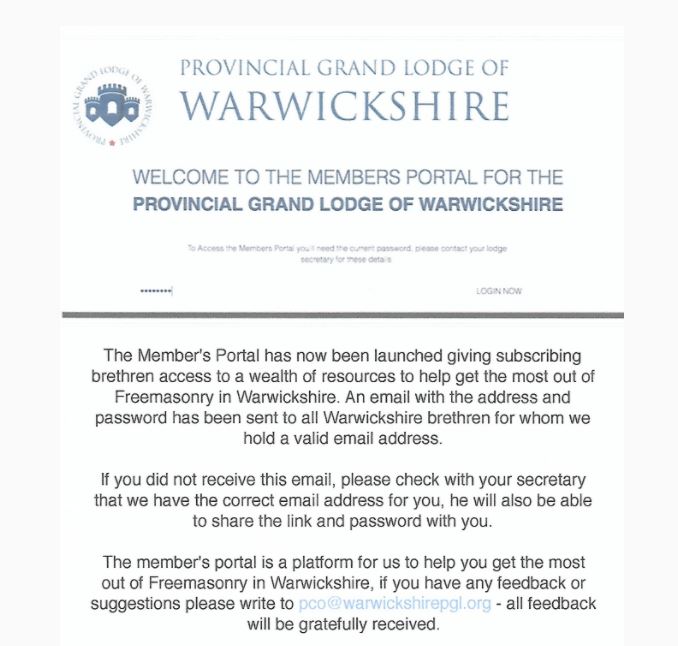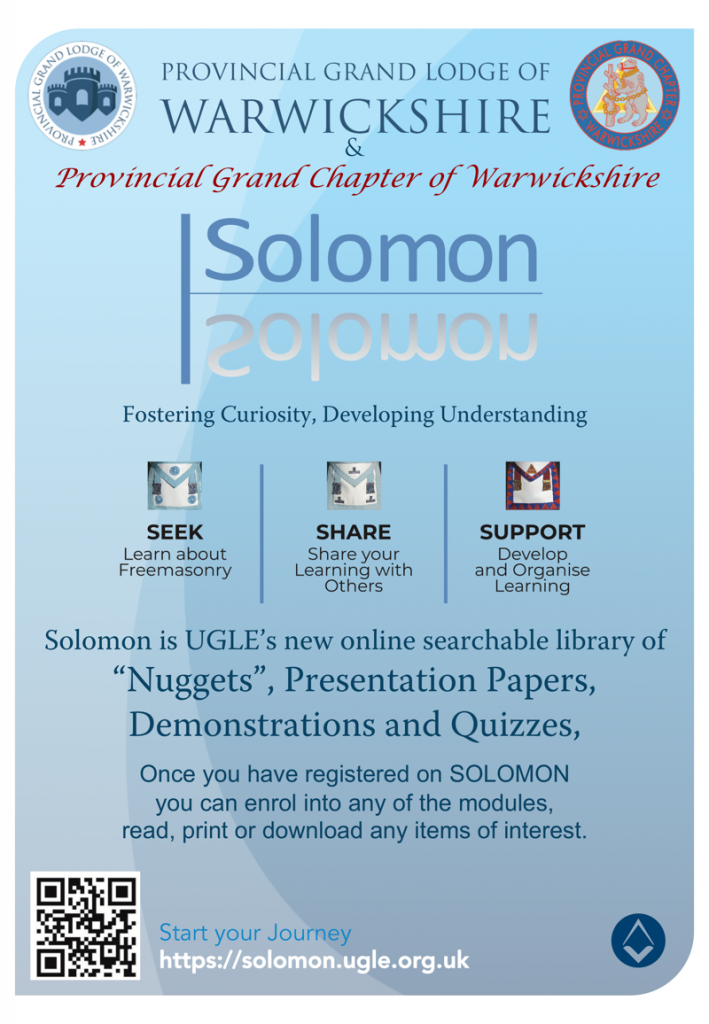 Fostering curiosity and developing understanding.