Unique & Majestic
Function Room in Birmingham.
Unique & Majestic Function Room for Hire in Birmingham.
Our Dining Room rates with the best in Birmingham for its Victorian uniqueness with two magnificent fireplaces and over mantle mirrors that helps create an ambience that will compliment your function and enhance your guest's enjoyment.
Ideal for parties to a maximum of 80 guests.

Flexibility of Room layout with either a traditional top table and sprigs or round table.
Reception drinks served in the 'Temple Room'.
Menus of choice prepared by our experienced Chef.
Silver Service by friendly waiting staff.
Discerning Wine list and well stocked Lounge bar.
Candelabra for that evocative candle-lit atmosphere.
Floral decorations and table centres to order.
Dancing in the adjacent Temple Room.
Entertainment and music to suit your tastes.
A Maîtr D' to meet and greet your guests and manage your every need.
Dinners for Societies, Institutes, Associations, Groups and Clubs
Our unique Victorian Dining Room lends itself to a degree of formality that best suits your occasion that cannot be replicated elsewhere in the centre of Birmingham. We have many years of experience of organising formal Dinners in our Buildings and we can guarantee that the majority of your guests will not have experienced anything quite like it.
Apart from the usual 'Function' facilities that we offer; the following will apply;
• A dedicated Event Manager
• Traditional table layout accommodating up to 80 guests
• Dinner Menus of your choice
• Reception Drinks
• The services of a 'Toast Master' (additional extra).
• A PA System (additional extra)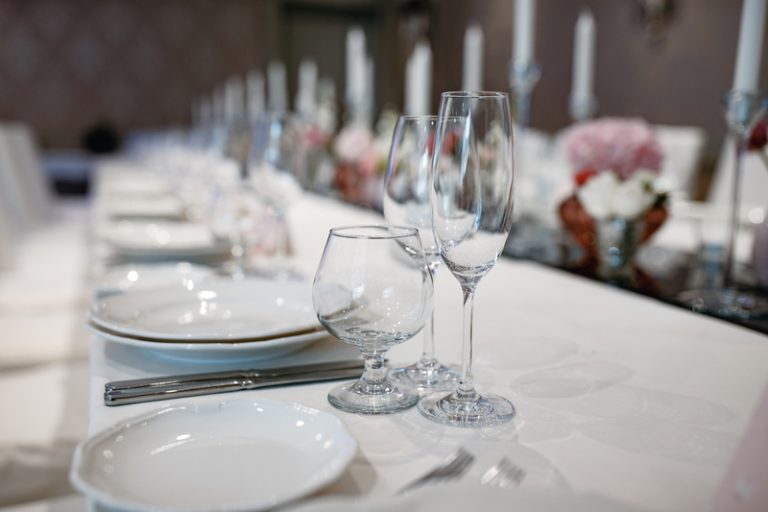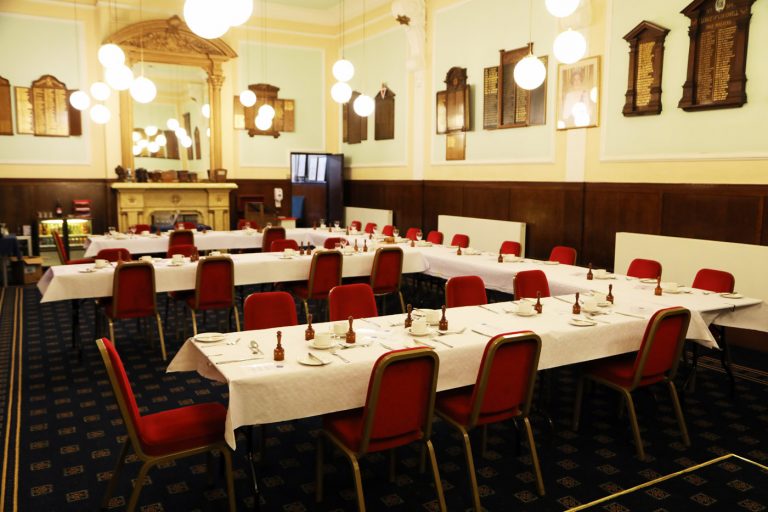 Whether it be, a private party with friends, a Masonic Ladies Evening, a Company 'bash', a Club or Associations annual Dinner Dance we organise the whole evening and entertainment around your choice of theme and music, including a 'live band' option.
A champagne reception will welcome your guests, 30-40 is really comfortable, with a sumptuous 6-course meal to follow setting the mood and tone for the dancing to come in the Temple Room.
A 'Master of Ceremonies' will orchestrate and direct the evening ensuring a great time is had by all.
St Valentines Ball
Venetian Masked Ball
Halloween Night
New Years Eve Ball
St George's Night
Burns Night Supper
The Bard's Birthday
….. Thanks for allowing us to have a fabulous dinner dance last night. The catering was superb and the room arrangements were perfect!…
…..Great venue for a dinner and dance. Excellent food, a very historical setting and friendly service in the centre of Birmingham……
Are you tired of the usual Ladies' Evening Festival venues?
Are you looking for something different, an evening that is special for you and your guests? Well look no further, we specialise in providing the complete package including:
An event photographer.

Maitr' D' to attend your every need.
Overnight stay in a nearby 4 star hotel (if required) at preferential rates.
Meetings & Conference Rooms in Birmingham
Need a meeting room or a option for a conference in the centre of Birmingham ?
Flexible usage of our Building allows us to provide a variety of rooms of differing sizes and layouts to suit your business requirements. All the rooms can be set up with AV equipment, LCD projectors, Flip charts and free Wi-Fi access.
Meeting rooms by the hour or the day.
Current day deligate rate (on application) options for per head including lunchor per head without.
Some of our clients:
Medical Defence Union.
Birmingham City University.
Durham University.
Birmingham University.
BT Openreach.
ADVA Optical. Networking Ltd.
SIS London.
Encona Solutions.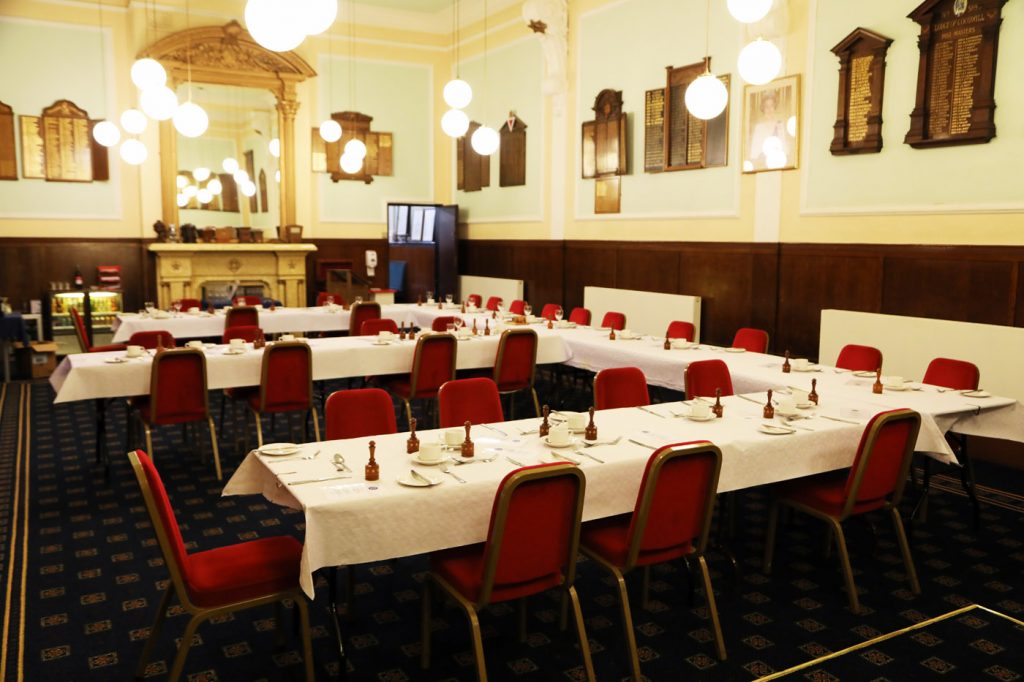 ….I just wanted to say a great big thank you for all of your input and help on Saturday. The venue was quirky and unusual and you and your staff could not have made us feel more welcome. Everything was organised to the last detail and I really could not have asked for more…….."
…..Thank you for a wonderful evening on Friday! we all thought it was brilliant, the actors, the food the whole evening…."
Networking Venue & Breakfast Meetings in Birmingham
Networking Venue
Networking Venues can be 'much of a muchness' as can the attendees so stand out from the crowd and get noticed in our Temple Room which is second to none and get a unique networking experience guaranteed.
Breakfasts Meetings
How many Breakfast Meeting venues are worthy of more than one visit? Well Athol MAsonic Building is certainly one of those where one visit is never quite enough!
Our atmospheric Victorian Dining room compliments both the quality of the breakfast served and the uniqueness of the Temple Room for you meeting.
Light and Full on-site Catering Services can be provided.
Rooms can be hired by the hour, day or half day, hire rates upon application.